We offer comprehensive
podiatry services
Dr. Drucker is clinically and surgically trained in all aspects of the foot and ankle. This includes the diagnosis and treatment of sports and overuse injuries, bunions and hammertoes, foot and ankle fractures, diabetic foot care, wound care, palliative care, and generalized foot and ankle care. Dr. Drucker provides thorough and comprehensive care with treatment options that are clear and easy to understand. Digital x-ray, ultrasound, MRI, and CT are all available in the office, allowing for quicker diagnosis and streamlined podiatric care. If you are experiencing foot or ankle pain, you have come to the right place. We have offices conveniently located in New York City.
I am a hardworking and passionate doctor who is trained extensively in sports medicine, reconstructive foot and ankle surgery, and wound care of the foot and ankle. My office is proud to offer quality and compassionate medical and surgical services for all of your foot and ankle care needs, from palliative care to sports medicine injuries to wound care and everything in between. I have trained with podiatric physicians for professional athletic teams and have worked at length in comprehensive wound care centers. I employ the most up to date technologies and techniques to foster quality results.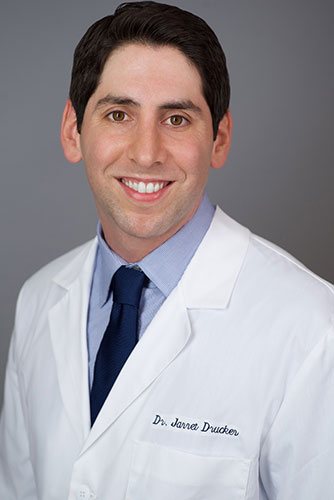 Patient Reviews
Below are the most recent reviews of Dr. Jarret Drucker from around the web. To see a full page and filter by source and ranking (1-5 stars) please visit our page of patient experiences and reviews for Dr. Jarret Drucker.
Review from
Robert E.
Source: Google | Sep 10, 2018
Dr. Drucker and his staff are very professional. Every appointment I have gone in for wait time is minimal. The bedside manner of Dr. Drucker is very comforting. He is attentive to any questions and concerns and explains everything in...
Review from
Elsie R.
Source: Google | Aug 20, 2018
Dr. Drucker made me feel very welcome, communicated what needed to be done and let me know what he was doing with every step, he explains everything. 5 stars!
Review from
Jarvis M.
Source: Google | Aug 15, 2018
The front desk was very efficient, the doctor was attentive, knowledgeable anf addressed my concerns without rushing me. I would recommend this doctor and facility to everyone.
Request Your Appointment Today